CSC Olympiad: – A very good service has come in CSC (Common Service Centre) for those students whose studies are deteriorating due to this epidemic(Corona Virus); CSC Olympiad can be a very helpful service for students from class 3rd to class 12th who are unable to go to school.
CSC Olympiad – Olympiad Exam for 3rd to 12th
There are four subjects for registration in CSC Olympiad Science, Mathematics, English, and Hindi.
Name of Examination of CSC Olympiad Exam
CSC Academy – National Science Olympiad ?CANSO
CSC Academy – National Mathematics Olympiads ? CANMO
CSC Academy – National English Olympiad ? CANEO
CSC Academy – National Hindi Olympiad ? CANHO
Mock Test will be available from 15 May 2020 for above Olympiad examination.
Registration Date: ? The last date of CSC Olympiad Exam registration is 01/08/2020.
Application Fee: – Application fee to registration in Olympiad Exam is Rs. 125/-
Education Eligibility: – Students studying in between 3rd to 12th class are eligible for this service.
How to apply: ? Those students are interested to apply for this service can register through two option. Go to official website of www.cscolympiads.in and follow steps given below.
Register General User: – Through this, the student can register himself by filling the required details.
Login as VLE: – if the students want to register through (VLE) Village Level Entrepreneur. Then go to nearby VLE with the mandatory details and Registered with CSC Olympiad.
How it works: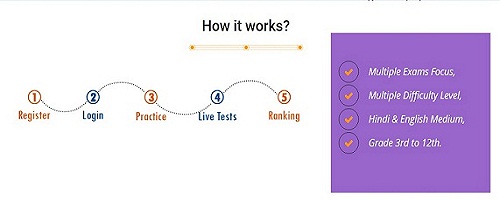 Firstly Students Register
Then Login
Practice
Live Tests
Then Students get Ranking
Olympiad Award and Ranking Criteria:
Gold Prize ? In this Top 3 Students will get Rs.51000 Cash Prize.
Silver Prize ? In this Top 5 Students will get Rs.21000 Cash Prize.
Bronze Prize ? In this Top 10 Students will get Rs.11000 Cash Prize
Those students who will get 70% or above marks will get Excellence Certificate.
Top Rankers students Principals, Teachers and Parent will invite in the Event.
Note: ? Before Registration is advised read all instruction.
Important Date:
| | |
| --- | --- |
| Last Date Online Registration | 01/08/2020 |
| Exam Date | August 2020 |
| Mock Test Available | 15/05/2020 |
More Detail: