Higher Education Haryana Online Admission: Department of Higher Education Govt. of Haryana invites online application to take admission to various Degree courses (Under Graduate and Post Graduate Courses) in Government, Aided and Self Financing Degree colleges. Those candidates are interested for admission can apply through the below given link . There is no offline mode for submission of the admission application form.
Department of Higher Education Haryana Admission
Application Date:
Registration for Online admission 2022 for all types of UG/PG/Diploma and other Courses details go to the above link check your requirement Updated in the Above table as per the courses click on the links and get your query in which you want to apply to take admission.
Courses offered for Higher education haryana :
✔Bachelor of Arts (BA)
✔Bachelor of Science (B.Sc.)
✔Bachelor of Commerce (B.Com)
✔Bachelor of Computer Application (BCA)
✔Bachelor of Business Administration (BBA)
✔Bachelor of Technology (B.Tech.)
✔Bachelor of Engineering (B.E)
✔Bachelor of Education (B.Ed.)
✔Bachelor of Pharmacy (B.Pharma)
✔Master of Arts (MA)
✔Master of Science (M.Sc.)
✔Master of Business Administration(MBA)
✔Master of Computer Application (MCA)
✔Diploma Engineering(D.E)
✔Diploma Pharmacy (D.Pharma)
✔Diploma in Veterinary and Livestock Development (DVLT)
✔Diploma in Medical Laboratory Techniques (DMLT)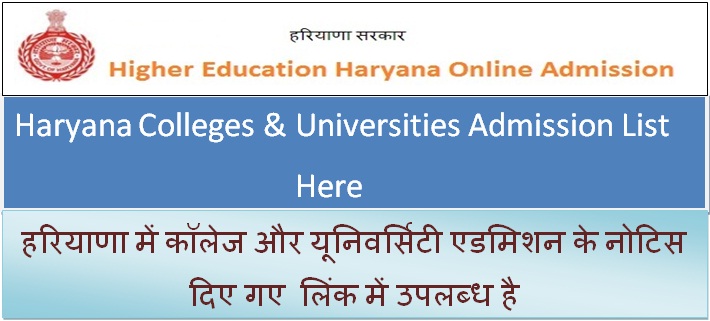 Application fee
Application fee will paid per colleges or University according to category as registration for
Higher Education Haryana.
Apply Online for Latest Sarkari Naukri
Mode of Payment:
The application fee will be submitted through online mode only by using debit card, credit card and Net banking.
Seat Allocation:
Students in the would be allocated seats on the merit list or Entrance Exams in colleges or Universities in the courses combination to availability of the seats in their respective categories.
How to Apply:
Candidates may apply online their application to admission go through particular website of Colleges or Universities or visit on the table given above.
Document for Higher Education Haryana:
✔Candidates should have unique mobile numbers mandatory for Registration.
✔Candidates should have Aadhaar number or Family ID
✔Economically Weaker Section Certificate (EWS) if Applicable
✔NCC/ NSS or Sports Weightage if Applicable
✔Weightage should be applicable as per University norms only.
✔Character Certificate if Applicable
✔Gap Certification If Applicable
✔List of Documents as Matric (10th) Marksheet,10+2 Marksheet, Migration ✔Certificate (Other than Haryana Board),Character Certificate.
✔Haryana Resident Certificate (Domicile)
✔Income Certificate if Required
✔Category Certificate for Reserved Category.
✔All required documents would be uploaded online portal to take admission in Higher Education Haryana.
NOTE: All Interested Candidates are advised before apply online admission read all instruction carefully.
FAQ
Are admissions open for colleges in Haryana 2022?
When will Start update in Above given link
How do I apply for Haryana college admissions online 2022?
Go Above link read all instruction and fill application form of College Admission 2022.
When will start for Haryana Agriculture Admission 2022?
Follow the above given link to get full information about Haryana agriculture admission.